Pivot door for a client from Luxembourg
Datum : 15 November 2021
One of the most interesting products available in ProfilNET's offer are Pivot and Semi-Pivot doors. This type of solution is dedicated to the most demanding customers for whom, apart from quality, modernity and lightness of arrangement, the unconventionality of the solution is also important.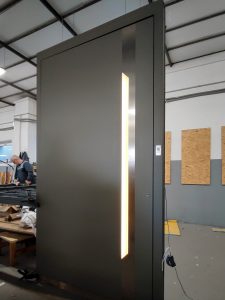 For our client from Luxembourg, we prepared Pivot doors based on the Aliplast Star 90 aluminium system. Thanks to the shifted supporting axis, we obtained the effect of semi-rotating doors opening up to 109˚. A modern transmission system was used in the presented solution, thanks to which using the door, despite its large size (1400mm x 2470mm) and weight, is extremely easy and comfortable. Visual aspects are also an important element of this design. The whole door has been coated with a striking Tiger 7039 structural varnish. On the customer's request, we have installed LED illumination of the handrail, whose warm light perfectly emphasizes the colour and structure of the varnish. It is also worth mentioning that the unconventionality of the door and aesthetic values are not everything in this project. The doors are fully prepared for integration with the Smart Home system. We have equipped them with an electro-lock with day/night function, contactors for the alarm system and a fingerprint reader.
This is another project of this type, but the first time we have used the Aliplast Star 90 system. The customer to whom we send doors ordered a total of three doors (including one of the Pivot type).
You can see how the Pivot semi-revolving door works for our client from Luxembourg in the video below: