Insulating glass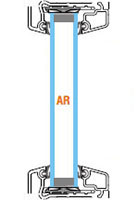 Insulating glass plays a big part when it comes to the thermal insulating properties of the window. Because of that, the right choice of glazing is really important. To reach the best thermal insulating properties the space between the panes is filled with gas, usually argon. On the market the most choosen system, is the 4-chamber glazing system. Depending on the pane width, the frame and the sort of used glass, the window gains specified thermal insulating values (Ug). The lower the Ug, the better thermal insualtion propteries of the glazing.
Standard 4/16/4 glazing has the thermal conductivity properties of  Ug = 1.0 W/m2K. The triple glazing is being choosen more often thanks to the lower Ug of Ug = 0,7-0,5 W/m2K when using a glazing of 36-44 mm in width.
All glazing offered by the ProfilNET company are in standard equipped with warm frames edges. Why is it worth to go for glazings that have warm frame edges?
Between a standard frame and a frame with enhanced frame edges theres a huge difference. The standard frames are made from aluminium, without the warm frames the heat starts to escape through the edges. The hot frame are made from insulating composit of plastic, that is a natural barrier from loss of heat, the edges of the panes dont let any heat to escape through the edges, thats why it was named "warm edge frames". This element has a big impact on the thermal insulation properties of the window and higher the comfort that lets you reduce energy loss.