Characteristics
Entrance doors are an important element of every house. They have to protect us from the cold, rain and be thieves. They are the first thing we meet when visiting someone, they have to fulfill a range of requirements to meet our expetations. Thats why we decided to combine the best brands and panel qualities of the german company Rodenberg with warm and stable doors made from aluminium profiles. Thats how the perfect doors were made, they are:
A over time and unique design,
Have excellent thermal properties,
The highest durability and resistance to use,
High security standards,
Aesthetics of execution and attention to detail.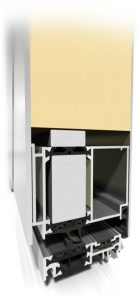 We are convinced that anyone who is looking for a door to their home is guided by the above given criteria.
Why aluminium doors?
The answer is simple. There's no other material that combines so many advantages and soltuions. Aluminium profiles are perfect for door manufacture. Thanks to the wide construction and additional thermal in-fills we gain great thermal insulation properties. The materials durability ensures that the doors can be used for many years. That's even more imporant since we open a door a lot more times than for example a windows. Moreover they are resistant to different thermal conditions, thanks to that they dont bend or damage overtime. Thats not the case when it comes to other materials like PVC or wood, which is an important aspect.
The exclusive aluminium doors of our company are in standard in the window-door Aluprof MB-86 system, that has great thermal insulation properties. The doors combined with a really warm panel can reach the  Ud=0,66 W/m2K. In order to raise the thermal insulation values even more we can equip the doors with special thermal inserts of the following: ST, SI, SI+ or Aerogel. | | |
| --- | --- |
| Frame depth | 77 mm |
| Sash depth | 77 mm |
| Inside panel thickness | 44 and 77 mm |
| Maximum sash size | (W x SZ) SZ to 1400 mm, W to 2600 mm |
| Air permeability | Class3, PN-EN 12207:2001 |
| Waterproof | Class 6A (250 Pa), PN-EN 12208:2001 |
| Resistance to wind load | Class C5/B5, PN-EN 12210:2001 |
| Thermal insulation | UD od 0,66 W/m2K |
Door constructions
Type 1
Type 2
Type 3
Type 4
Type 5
Type 6
Type 7
Type 8
Type 9
Type 10
Type 11
Type 12
Type 13
Type 14
Types of panels
On the market different types of panels are available, different material from which they are made, thickness, color or pattern. Exclusive aluminium doors can be made in 3 variants of aluminium panels:
Model Basic

The most common solution. The panel is mounted on the glass. The sash is visible on both sides.

Model Classic

The door panel from the outside is flushed with the frame and from the inside inserted. Thanks to this the sash from the outside is nearly not visible creating a modern shape together with the frame.

Model Exclusive

The door panel is flushed wfromt he inside and outside with the frame. The sash is not visible from any side creating a perfect harmony. Additonally in this type of doors hidden hinges are commonly used in order to underline the modern construction shape even futher.
Why the Rodenberg and Aluprof brands?
The Rodenberg company is one of the leading german brands for quality panel doors. It outperforms all its competition in terms of quality, manufacture and finishing. The panels of this company are mounted in doors all around the world. A very wide collection offers panels in different styles and colors, which makes sure that everyone will find something to their liking. To complement our offer we also have panels from the Aluprof brand.
Endowment for exclusive doors
Fitting
Doors in standard are equipped with automatic-3-point fitting that close when the sash meets the frame or by using a key. Thanks to this the doors are very secure and additonally tight. There is the possibility of using a 5-point fitting, electrolock or closer mounted on the sash or a invisible one.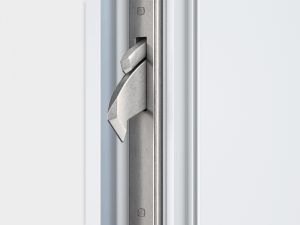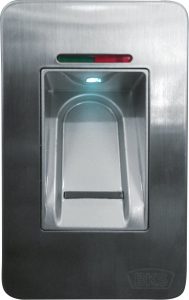 A common solution that is being widely used are door systems opened with a magnectic card, bluetooth device or a fingerprint reader. All these solutions can be used in exclusive doors without any issues. These solutions improve the ease and comfort of use which is extremely important considering the time we live in.
All doors are equipped with: 3 hinges with a multi-level regulation, that favor continuous use without issues. The colors of the hinges are as best as possible matched to the door scheme, so they create a aesthetic element. There is the possibility of manufacturing hidden hinges. The hinges are mounted inside the doors and are not visible, which improves the look, especially for doors with a flushed sash (model Classic and Exclusive). Moreover they have a higher endurance and durability compared to classic solutions.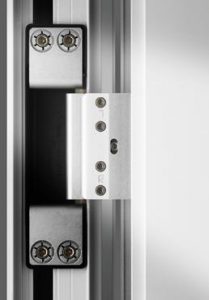 Handles and pull handles made of stainless steel
In standard all doors are equipped with handles, knobs, cylinders and pull handles made from stainless steel. A really important factor i the choice of the knob that is mostly mounted from the outside. The knobs are an aesthetic element in every door so it's wise to think about which one will fit our door the most.
600

800

1000

1200

1400

1600

1800

AP 40

AP 50

AP 55

AP 60

AP 70

600

800

1000

1200

1400

1600

1800

AP 80

AP 120

AP 210

AP 90
AP 200

AP 110

Glazing
Door panels depending on their thickness can be equipped with double or triple glazing and a "warm frame edge". Depending on the clients taste, safety, ornamental, tempered or inside out sprouts can be used.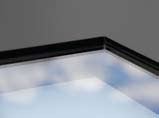 Master-Point

Chinchilla

Satinato

Master-Ligne

Master-Carre