Charateristic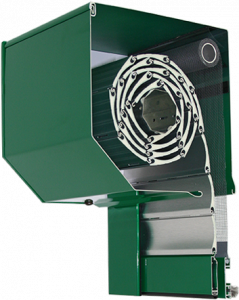 Aluminium front-mounted roller shutters are one of most comprehensive systems available on the market. Those shutters can be built while the construction is on going, but also after it's done (for example when the windows are being changed for new ones). They don't cause any trouble for mounting of the windows. Futhermore they perfectly insulate heat and serve as an additional safety mechanism. The most important aspect hower is that they shut out the sunlight. Front-mounted roller shutters 45°  from Alukon have a box that is cut at an angle of 45 degrees from the outside. The box, the armor and the guides are made from lacquered aluminum. They can be mounted in two ways: on the façade of the building or in the window niche.
Assembly on the façade
The box and roller guides are mounted on the outside niche of the window on the facde, so that the box does not cover the entire opening. They are defined by the simplicity of execution and lack of technical limitations.
Assembly in the window niche
The advantage of this variant is the construction of the box and guides in the window niche, and the disadvantage is that the light rays penetrate the window glass. It is possible to fit a smaller box, but this is not recommended for smaller window openings.
Front-mounted roller shutter Alukon 45° with an integrated insect-repelling shutter in the box. 
Front-mounted roller shutter Alukon 45° with an integrated insect-repelling shutter in the box. This solution is becoming increasingly popular. On warm summer days the insect reppelling shutter can be left down the entire time and this way become an unbreachable obstacle for insects. The insect shutter can be hidden at any time by one move of the hand. It is a superior solution to the frame mosquito net because of their fragile construction they often end up breaking and need to be exchanged at least twice a year. And because of their build they take up a lot of room space compared to the integrated insect-repelling shutter. The integrated insect-repelling shutter does not cause any issues when using the normal shutters either. The gray color of the net perfectly flushes with the color scheme of the construction.