Charateristic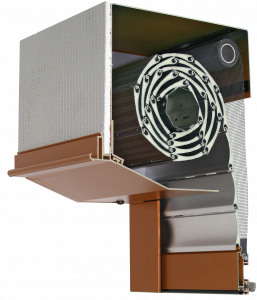 Alukon Built-in roller shutter 20° offers high value aesthetics, because the box is built into the facade and invisible from the outside of the building. From the outside only the lower part is visible, which makes maintenance simple and easy. The box and guides are built in such a way that they give off a vibe of safety and the aesthetic construction is gaining the roller shutter increasing popularity. The system is designed for new buildings but it can also be used in already existing ones. Futhermore it flushes with the facade creating a great thermal insulation and noise barrier.
Mounting in the window niche

The advantage of using 20 ° Built-in roller shutter is the possibility of mounting them in the window niche in such a way that the shutter can be completely invisible. The only visible part that remains is the bottom revision. This provides excellent aesthetics and is also the best thermal solution. It's best to account for the use of 20 ° Built-in roller shutters when designing our building.