Charateristic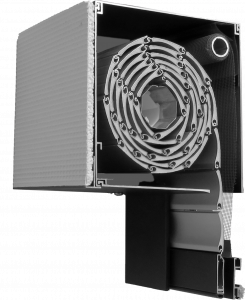 Alukon Built-in roller shutter 90° offers high value aesthetics, because the box is built into the facade and invisible from the outside of the building. From the outside only the lower part is visible, which makes maintenance simple and easy. The box and guides are built in such a way that they give off a vibe of safety and the aesthetic construction is gaining the roller shutter increasing popularity. The system is designed for new buildings but it can also be used in already existing ones. Futhermore it flushes with the facade creating a great thermal insulation and noise barrier.
Mounting in the window niche

The advantage of using 90 ° Built-in roller shutter is the possibility of mounting them in the window niche in such a way that the shutter can be completely invisible. The only visible part that remains is the bottom revision. This provides excellent aesthetics and is also the best thermal solution. It's best to account for the use of 90 ° Built-in roller shutters when designing our building.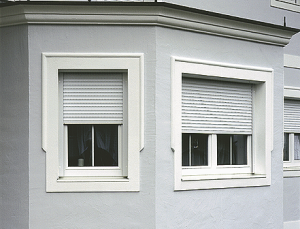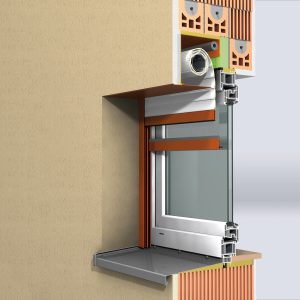 Alukon Built-in roller shutter 90° with an integrated insect-repelling shutter in the box. 
The Alukon Built-in roller shutter 90° with an integrated insect-repelling shutter in the box. This solution is becoming increasingly popular. On warm summer days the insect reppelling shutter can be left down the entire time and this way become an unbreachable obstacle for insects. The insect shutter can be hidden at any time by one move of the hand. It is a superior solution to the frame mosquito net because of their fragile construction they often end up breaking and need to be exchanged at least twice a year. And because of their build they take up a lot of room space compared to the integrated insect-repelling shutter. The integrated insect-repelling shutter does not cause any issues when using the normal shutters either. The gray color of the net perfectly flushes with the color scheme of the construction.